About the Department
Key Stage 3
Key Stage 4
Key Stage 5
Extra Curricular
Our Journey Thorough Mathematics
Online Platforms
Staffing List
About the Department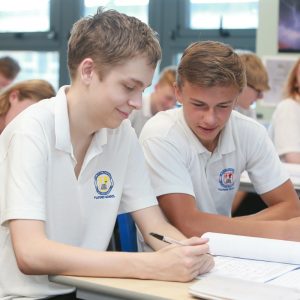 Curriculum Leader: Mr M. Holland
The Mathematics Department at Fulford School is made up of enthusiastic mathematicians, eager to spread both their passion for and understanding of the discipline of mathematics. As a team we are very proud of the level of expertise we possess and in addition to our undergraduate degrees some our staff hold postgraduate degrees in mathematics and education. Even so, we believe firmly that the study of mathematics is a lifelong commitment and we relish the opportunity to explore new areas within the subject and overcome the difficulties that these may pose to us. We invite all of our students to embrace the same level of resilience and understand that, although it is satisfying to solve a problem, the journey and mistakes made along the way are just as (if not more!) important.
Engaging, interactive and rigorous lessons encourage our students to discuss concepts, experiment with different methods, and compare solutions. We employ a variety of teaching techniques in our lessons to achieve the above such as jigsaws, loop card, and treasure hunts, while ensuring that in every lesson students have the quiet time necessary to answer questions independently as well.
Through a curriculum carefully planned backwards from university level mathematics, as well as continuous guidance and support from all of our staff, we are confident that every student at Fulford School will not only succeed in the subject academically but over time develop an appetite for both its beauty and its challenge.
Useful websites:
KS3
Key Stage 3
Key Stage 4
Key Stage 5
Extra Curricular
Our Journey Thorough Mathematics
Online Platforms
Staffing List