About the Department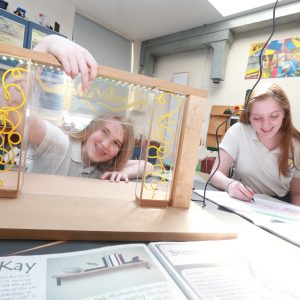 Curriculum Leader: Mr D. Allen
The D&T department aims to develop pupils' knowledge and understanding of contemporary and traditional design by working through a range of topics, including design and make projects, modelling activities and focused research tasks.
The subject is taught by an enthusiastic group of teachers who have a wide variety of analytical, design and making skills, including traditional hand skills, and computer-based skills, meaning that students are well-informed when making their chosen outcomes.
The department consists of modern Food Preparation and Nutrition rooms, four well equipped multi-media workshops, and two Textiles rooms.  We encourage pupils to make use of all facilities on offer, including the laser cutter and 3D printer.
Key Stage 3
Pupils spend two hours per week studying Design and Technology, focusing on the key skills of investigation, designing, making and evaluating.
One hour per week will be spent studying more Product Design and systems-based outcomes, whereas the other hour will focus more on Food and Textiles-based outcomes.
Pupils will have the opportunity to specialise further at KS4.
To find the programme of study for D&T, please click here.
Here are some examples of work from our KS3 students:
Key Stage 4
Pupils will study an exciting and diverse range of disciplines covering all areas of Design and Technology, including investigations into design styles, modern and contemporary designers and issues influencing designers today.
Pupils will learn how systems work to enhance people's lives, gain a greater appreciation of the different cultural effects that are present in multi-cultural environment, in addition to developing a greater understanding of how materials, processes, systems and products have evolved as technology has developed.
Pupils in Year 9 will be taught as a 'foundation year' where the principles of good design will be reinforced whilst working on a range of activities using a range of materials including Textiles, Graphical media and Resistant Materials. Year 10 pupils will focus more on a material specialism, whereas Year 11 will be spent covering a major project that will contribute to the pupils' final GCSE grade, as well as preparing for the end of year examination.
Years 9 and 10 are following the revised GCSE specification that can be viewed here.
The breakdown of this course is 50% Non-examined assessment, 50% Examination.

Food Preparation and Nutrition
Pupils in years 9-11 have the opportunity to study the new and exciting Food Preparation and Nutrition course, which focuses on practical cooking skills to ensure students develop a thorough understanding of nutrition, food provenance and the working characteristics of food materials.
At its heart, this qualification focuses on developing students' practical cookery skills to give them a strong understanding of nutrition.
Food preparation skills are integrated into five core topics:
Food, nutrition and health
Food science
Food safety
Food choice
Food provenance.
The breakdown of this course is 15% Food Investigation, 35% Food Preparation assessment, 50% Examination.
To find the specification for Food Preparation and Nutrition, click here.
Here are some examples of our KS4 student's work:
Key Stage 5
We offer 3D Product Design and Product Design: Fashion and Textiles for those who wish to continue studying the subject at A-Level. Students will learn about a range of designers, design styles and principles, as well as being given the opportunity to experiment in more depth with a range of modern materials and techniques.
The breakdown for these course is: 50% Design and Make Project (non-examined assessment),
2x examinations (Technical Principles (30%) and Designing and Making Principles (20%).
Here are the specifications for Product Design and for Fashion and Textiles..
Extra Curricular
In addition to the projects we teach in lessons, we also enter pupils in competitions such as 'Inspirations' at Elvington and the Rotary Club competition at the National Railway Museum, where pupils are able to practise their engineering skills or showcase their work. We have been particularly successful over the last few years, with pupils winning the 'Inspirations' day at Elvington and being put forward to the national Big Bang engineering finals.
In addition to taking part in external events, we also run a Master chef competition and take part in various STEAM (Science, Technology, Engineering, Art and Maths) based events.