About the Department & Curriculum Overview
Key Stage 3
Key Stage 4
Key Stage 5
Extra Curricular
About the Department & Curriculum Overview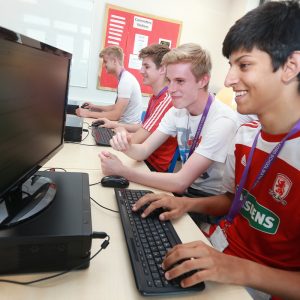 Curriculum Leader: Mr P. Dring
What is Computing
Computing consists of three subjects in one:
Computer Science (CS),
Information Technology (IT) 
Digital Literacy (DL).
Each are equal in their huge importance and ever-growing relevance.
| | |
| --- | --- |
| Computer Science | involves understanding how computers work and how to use them to solve problems with algorithms and code. |
| Information Technology | involves processing data and using a variety of hardware & software to create digital media that is suitable for different audiences and purposes. |
| Digital Literacy | involves understanding how to use technology safely, respectfully, responsibly and securely |
Roles requiring digital skills pay 29% more than those that don't[2]
In recent years, the number of digital jobs grew almost three times as quickly as other occupations[3]
Computing at Fulford
The Computing curriculum at Fulford is designed to inspire and equip students so that they can have a competitive advantage in the digital jobs market of the future, as well as using their tech skills to make the world a better place.
Our schemes of work are designed to cover the curriculum content in a way that challenges stereotypes so that all students have the opportunity to progress on to the next step of their digital development.
We want our students to be confident creators and consumers of technology in order to thrive as academic, economic and social leaders.
Fulford School's Computing department is the lead partner school in a local STEM Enthuse Partnership which aims to tackle gender stereotypes and recruit more students into STEM careers.
We're excited to partner with All Saints as a hub school as part of the National Centre for Computing Education.
We are also delighted to receive a Google Educator Grant to develop and share our self-marking Python programming resources and a Royal Society Partnership Grant to find creative ways to encourage more girls to thrive in Computer Science.
We have been awarded a Nesta Classroom Changemaker Award for developing KPRIDE resources to help make the teaching and learning of programming to be more accessible to all students.
We have been awarded an Education Business Innovation Award for our computing support both in lessons and through extra curricular activities. We're really proud of our students who have won awards and prizes in many competitions including:
First Lego League robotics challenge
PA Consulting Raspberry Pi Award
Your Voice Is Power creative computing and computing competition
Young Coders Game Development competition
DressCode game design and cyber advent calendar competitions
We run weekly support videos and competitive coding challenges via compete.withcode.uk for GCSE and A Level students
Our learning activities are designed with following six intentions:
| | |
| --- | --- |
| We intend computing to be: | Examples: |
| CREATIVE – use your imagination to create something new | Media and programming projects contain elements of choice and flexibility to allow students to express their own ideas. |
| CHALLENGING – push yourself and deepen your understanding | Our assessment process provides regular advice on what the next step is for each student to improve with resources to help students develop enjoy learning independently. |
| COLLABORATIVE – learn from others and work as a team | Sometimes students work individually, in silence but most of the time we encourage collaboration verbally or digitally in way that encourages leadership and reflection. |
| COMPETITIVE – beat your friends to win respect or prizes | We use quizzes and interactive challenges to reinforce learning, aid memory recall and to promote a culture where it's fun to succeed. |
| CURIOUS – experiment and discover for yourself | Learning is not passive. We promote active participation by encouraging debate, investigative learning and a "what if…" mindset. |
| COMPASSIONATE – use your skills to make a difference to the world around you | There's more to life than academic or economic 'success'. We create deliberate opportunities for students to reflect on how they can apply their newly learnt tech skills to make the world a better place. |
We've adapted our curriculum to be as flexible as possible in light of the coronavirus pandemic but plans mentioned here are subject to change.
[1] 'No Longer Optional: Employer Demand for Digital Skills' (PDF, 2.30 MB)
[2] 'No Longer Optional: Employer Demand for Digital Skills' (PDF, 2.30 MB)
[3] 'Tech Nation 2016 – Transforming UK Industries' (PDF, 8.82 MB)
Key Stage 3
Key Stage 4
Key Stage 5
Extra Curricular