About the Department
Key Stage 3
Key Stage 4
Key Stage 5
Extra Curricular
About the Department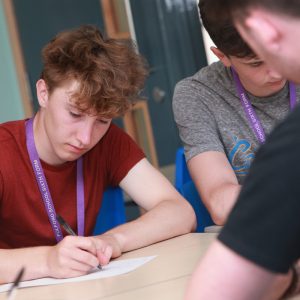 Curriculum Leader: Mr S. Nesbitt
Staff List:
Miss Crudgington
Miss Thompson
Mr S Nesbitt
Religious education provokes challenging questions about the ultimate meaning and purpose of life, beliefs about God, the self and the nature of reality, issues of right and wrong and what it means to be human. It develops pupils' knowledge and understanding of Christianity, other principal religions, other religious traditions and other world views that offer answers to questions such as these. It offers opportunities for personal reflection and spiritual development.
Aims of Religious Education
Religious Education is concerned with the deep meaning that individuals and groups make of their experiences and how this helps them give purpose to their lives.
The purpose of Religious Education is to help pupils to reflect upon the experiences and the mysteries of life and the contribution of religious and spiritual dimensions.
Religious Education should enable pupils to:
Acquire and develop knowledge and understanding of Christianity and the other principal religions.
Develop an understanding of the influence of beliefs, values and traditions on individuals, communities, societies and cultures;
Develop the ability to make reasoned and informed judgements about religious and moral issues, with reference to the teachings of the principal religions and thereby develop confidence in their own beliefs and values;
Enhance their spiritual, moral, social and cultural development by:

developing awareness of the ultimate questions of life raised by human experiences, and of how religions can relate to them;
responding to such questions with reference to the teachings and practices of religions and other belief systems, relating them to their own understanding and experience;
reflecting positively on their own identity, beliefs, values and experiences in the light of their study;

Develop positive attitudes:

of respect towards other people who hold views and beliefs different from their own, and;
towards living in and contributing to an inclusive and caring community and a society of diverse religions.
Fulford has an enthusiastic, experienced and successful team of three full-time specialist Religious Education teachers, and one part time teachers. The department prides itself on providing religious, philosophic and moral education that meets the interests and needs of young learners. The department makes a significant contribution to the results of the school both at GCSE and A level as well as contributing to whole school improvement.
Key Stage 3
Key Stage 4
Key Stage 5
Extra Curricular