About the Department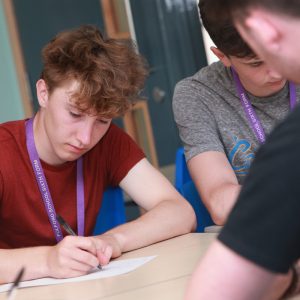 Curriculum Leader: Mr S. Nesbitt
Religious education provokes challenging questions about the ultimate meaning and purpose of life, beliefs about God, the self and the nature of reality, issues of right and wrong and what it means to be human. It develops pupils' knowledge and understanding of Christianity, other principal religions, other religious traditions and other world views that offer answers to questions such as these. It offers opportunities for personal reflection and spiritual development.
Aims of Religious Education
Religious Education is concerned with the deep meaning that individuals and groups make of their experiences and how this helps them give purpose to their lives.
The purpose of Religious Education is to help pupils to reflect upon the experiences and the mysteries of life and the contribution of religious and spiritual dimensions.
Religious Education should enable pupils to:
Acquire and develop knowledge and understanding of Christianity and the other principal religions.
Develop an understanding of the influence of beliefs, values and traditions on individuals, communities, societies and cultures;
Develop the ability to make reasoned and informed judgements about religious and moral issues, with reference to the teachings of the principal religions and thereby develop confidence in their own beliefs and values;
Enhance their spiritual, moral, social and cultural development by:

developing awareness of the ultimate questions of life raised by human experiences, and of how religions can relate to them;
responding to such questions with reference to the teachings and practices of religions and other belief systems, relating them to their own understanding and experience;
reflecting positively on their own identity, beliefs, values and experiences in the light of their study;

Develop positive attitudes:

of respect towards other people who hold views and beliefs different from their own, and;
towards living in and contributing to an inclusive and caring community and a society of diverse religions.
Fulford has an enthusiastic, experienced and successful team of three full-time specialist Religious Education teachers, and one part time teachers. The department prides itself on providing religious, philosophic and moral education that meets the interests and needs of young learners. The department makes a significant contribution to the results of the school both at GCSE and A level as well as contributing to whole school improvement.
Key Stage 3
Students in Years7, 8 and 9 receive one weekly lesson in Religious Education which gives them the opportunity to explore a wide range of world views and develop their skills of critical thinking.
Year 7 students begin their learning journey with an introduction to Islam where we delve in to the core beliefs as well as the key practices for Muslims. This is followed by Sikhism. Students learn about the most modern of the sixth largest global faiths and can compare an Eastern Karmic tradition with the monotheistic tradition of Islam. The year finishes with Humanism. Students have the opportunity to consider a non-religious world view and why seeking to live a good life and enjoying a sense of community is important regardless of whether or not you believe in God.
In Year 8, we start with the popular unit of Ethics where we discuss an arrange of topics such as animal rights, capital punishment and poverty. Students develop their debating skills and ability to build logical discussion and consistent lines of argument. This is followed by an analysis of the life of Jesus. Learning focuses on the context of the society in which he lived and why his teachings were considered so revolutionary during his life and why they still hold moral, political and social influence today. The year finishes with 'Expressing devotion'. This learning presents the students with a vast array of ways religious people choose to dedicate their lives to their beliefs.
In Year 9, we begin with studying Buddhism and why this Eastern faith has become popular in the Western world. This is followed by a study of creation stories. An evaluation of the creations story from Genesis how this can be interpreted in the modern world with considerations of natural theology. Consideration of language, analogies and science which creates a sequence of learning engaging for the youth of today. Students end their KS3 learning with Peace and Conflict, where we can evaluate the reasons for declaring war and Christian and Muslim views on when war becomes a necessity.
Key Stage 4
In Years 10 and 11, all students will take the AQA Religious Studies short course Where they will study the beliefs of Christianity and Islam and 2 the Thematic topics: Religion, peace and conflict and Relationships and families.
As part of their options choices, students can also opt to take Full Course Religious Studies. This includes the beliefs and practices of Christianity and Islam and 4 Thematic topics (Relationships and families, Religion and life, The existence of God and revelation, Religion, peace and conflict). As they will still study alongside the short course students, the department is in the unique position to offer an additional qualification alongside this option. Students will complete a Level 2 Higher Project Qualification which encourages students to develop and improve their own learning and performance by completing extensive research and a presentation on a topic of their choosing.
Key Stage 5
The Religious Education Department also offers A Level Religious Studies following the OCR Specification. This involves the study of units on Philosophy of Religion, Religion and Ethics and Development of Christian Thought.
Within this course students will have the opportunity to explore the works of some of history's greatest philosophers, such as Plato, Aristotle, and Aquinas. They will consider important questions about the nature and origins of morality, and the existence and potential of God. They will analyse issues such as the problem of evil and the relationship between religion and science. At the end of both Year 12 & Year 13 students will be assessed by examinations in Philosophy of Religion, Religion and Ethics, and Developments in Christian Thought respectively.
This year's A-Level uptake is at the highest it has been, recent A-Level results have been excellent at both AS and A2, placing Fulford RE students amongst the top 25% in the country.
Lessons are varied concentrating on contemporary issues within local, national and global societies, using research based activities, worksheets, use of the interactive smart board, DVDs, debating and group work. ICT is used to enhance students learning where possible, for example for researching and presenting information and through ICT software tailored to the course.
The department has friendly, enthusiastic and committed teachers who are continuing to improve the already high standards of the department.
Extra Curricular
At KS3 in Year 7 we run an alternative curriculum day to Leeds to experience cultural and religious differences between two major world religions.
The department works in close association with YoYo (York Youth Christian Organisation)
The department holds a series of lunch time discussion meetings with outside providers.
We run a Classics Club where students can explore ideas from ancient civilizations, and the language of Latin which still influence our society today.
We offer our A level students the opportunity to experience a variety of different Christian worship by attending different churches in the York area. We have also attend Candle Conferences hosted by Peter Vardy.