About the Department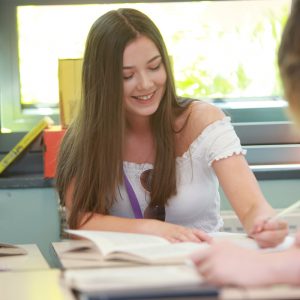 Curriculum Leader: Mr A. Kennedy
Our teaching of French and Spanish is guided by our intention to positively support and challenging learners to enjoy their learning and improve their ability to understand and communicate. We consistently aim to enthuse all learners to develop a life- long interest in languages, both from a cultural and linguistic perception.
The MFL Department consists of 8 enthusiastic and experienced teachers, all of whom are capable of teaching both French and Spanish. The department is typically housed in a suite of 5 classrooms. Each of these classrooms benefit from a networked computer and an interactive whiteboard. In addition, pupils are able to benefit from using computer suites so students can individually benefit from online resources. Pupils also benefit from accessing online materials at home to complement the courses at each level of learning.
Staffing
Mr. A Kennedy (Head of Languages)
Miss E Caulton (2nd in MFL, Head of KS3)
Ms. A Taylor
Miss. H Southall
Mr. C Patchett
Ms. S Janssen
Mrs. R Malone
Miss S Currie 
Key Stage 3
All students study a language throughout the 3 years of KS3. From September 2020* all students in year 7 will study Spanish, allowing them to develop a really thorough introduction to the language. Across KS3, there is generous provision, with 6 hours per fortnight allocated to languages. These students will continue to learn Spanish throughout KS3, while some will be offered the chance to learn French too.  Learning activities centre around different everyday topics, accompanied by appropriate grammar skills and lessons include a wide variety of speaking, listening, reading and writing activities. We seek to maximise the use of cultural references to life in French and Spanish speaking countries in order to enhance enjoyment and progress. Students are taught in mixed ability groups in Year 7 and then banded in Year 8. Regular End of Unit Assessments, at an appropriate level, provide ideal opportunities to reflect and prepare for the style examined in the new GCSE exams.
*In 2019-20, students in Year 7 and Year 8 have studied both French and Spanish, opting to continue with one or both into Year 9.
Key Stage 4
At Fulford, GCSE Options are taken at the end of Year 9, with some students opting to carry on with both languages and a large majority choosing to continue with either French or Spanish. We start to introduce GCSE topics during year 9 which allows us to make rapid acceleration with the GCSE specification and provides time for final preparation and revision activities towards the end of Year 11. In Years 10 and 11, there are 5 hours per language per fortnight. Languages are popular choices and we follow the AQA GCSE courses.  The courses in French and Spanish are set out in the same way and both have an option of either Higher or Foundation Tiers of entry. Students have individual practice oral exams at the end of Year 10, as well as during the Year 11 mocks, to ensure they are as fully prepared as possible for the GCSE oral, typically sat around Easter of Year 11. Listening, Reading, Writing and Speaking all have 25% weighting in the final exams.
Further information on the GCSE courses can be found via these links:
https://www.aqa.org.uk/subjects/languages/gcse/spanish-8698
Key Stage 5
An A level in a language is a treasured qualification, can balance any range of A level choices and offers life-enriching opportunities. We use the AQA exam board, building on from the skills learned at GCSE. The French and Spanish courses contain themes based on Francophone and Hispanic society and culture and include options to study specific works of literature and films.
We offer A levels in both French and Spanish and each year students consistently go on to continue their linguistic studies in Higher Education.  These courses, with so much contact time and typically smaller groups, allow students to develop a much deeper knowledge of the language and culture of the Hispanic and Francophone worlds. It is a real pleasure supporting the speed of progress typically made by students, who regularly present topics themselves in lessons and who often support younger students in their lessons during non- contact hours.
Further information and guidance on these A Levels can be found via these links:
https://www.aqa.org.uk/subjects/languages/as-and-a-level/french-7652
https://www.aqa.org.uk/subjects/languages/as-and-a-level/spanish-7692
Extra Curricular
We always seek to encourage students to use languages both in and out of the classroom.  We are currently reviewing options for trips abroad, but we do have plans to be able to give students opportunities to visit France and Spain.
We have run a film club for the chance to watch films in the original language and have taken students to the theatre to watch a production of a Lorca play. We are always looking to give students different experiences and contexts. Sometimes this has included reference to historic events, festivals, traditions or culinary delights!
There are so many opportunities now for students to benefit from technology to expand their language interests. We encourage students to watch French/Spanish films and programmes as well as to complete online interactivities and games.
We promote events such as European Languages Day within school. Older students are encouraged to help younger students with their learning, while our Linguists of the Month competition rewards students who go the extra mile (kilometre!) both in and out of the classroom.