About the Department
Key Stage 3
Key Stage 4
Key Stage 5
Staffing List
About the Department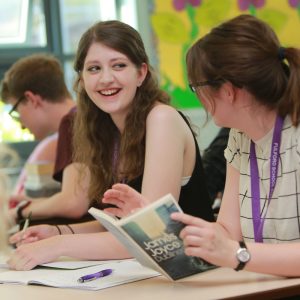 Curriculum Leader: Ms H. Crossley
The book to read is not the one that thinks for you, but the one which makes you think – Harper Lee
Reading is at the heart of students' experience of English at Fulford School. As a department, we strive to foster our students' appreciation of literature and to develop their personal tastes in reading. The curriculum we offer is broad and enriching, designed to develop an appreciation for and enjoyment of the power of language.
The English Department is ambitious, high achieving and creative, staffed by fifteen experienced teachers. It is our aim to promote learning in a lively and engaging way that combines fun with academic rigor. We are well resourced, with ten classrooms and a drama studio and we work closely with the Resource Centre to offer students access to up-to-date reading texts.
The delivery of the curriculum is closely linked with drama and offers students the opportunity to develop their performance and presentation skills. To further develop students' passion for English, the department offers a range of extra-curricular activities and students are encouraged to take part in competitions, both local and national. We also work closely with the Universities of York and York St John to provide enrichment opportunities.
The creation by word-power of something out of nothing – what is that but magic? And, may I add, what is that but literature? – Aldous Huxley
Key Stage 3
Key Stage 4
Key Stage 5
Staffing List