About the Department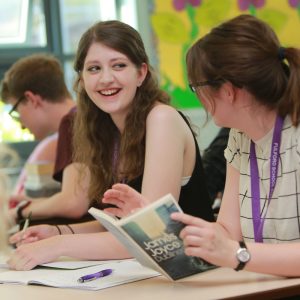 Curriculum Leader: Ms H. Crossley
The book to read is not the one that thinks for you, but the one which makes you think – Harper Lee
Reading is at the heart of students' experience of English at Fulford School. As a department, we strive to foster our students' appreciation of literature and to develop their personal tastes in reading. The curriculum we offer is broad and enriching, designed to develop an appreciation for and enjoyment of the power of language.
The English Department is ambitious, high achieving and creative, staffed by sixteen  experienced teachers. It is our aim to promote learning in a lively and engaging way that combines fun with academic rigor. We are well resourced, with ten classrooms and two drama studios and we work closely with the well-stocked Resource Centre to offer students access to up-to-date reading texts.
The delivery of the curriculum is closely linked with drama and offers students the opportunity to develop their performance and presentation skills. To further develop students' passion for English, the department offers a range of extra-curricular activities and students are encouraged to take part in competitions, both local and national. We also work closely with the Universities of York and York St John to provide enrichment opportunities.
The creation by word-power of something out of nothing – what is that but magic? And, may I add, what is that but literature? – Aldous Huxley
Key Stage 3
In Year 7, students study English in six one-hour lessons per fortnight. In Year 8, there are five one-hour lessons per fortnight and in Year 9, there are six lessons per fortnight. There is an addition one hour drama lesson per week for all students in Key Stage 3. In studying English at Key Stage 3, our students successfully make the transition from Primary to Secondary-level study, building on the foundations from Key Stage 2. Our curriculum is designed to enable students to progress in their mastery of reading, writing and speaking and we continue to value spelling, punctuation and grammar knowledge as key skills in English.
Each scheme of work includes a range of different and challenging literature texts in each year of study in order to encourage students to become enthusiastic and critical readers of stories, poetry and drama as well as non-fiction and media texts. Through this exciting breadth of texts, students gain access to the world of knowledge that reading offers, consequently becoming informed critical and sensitive thinkers. We are always interested in what students think and regularly ask them to evaluate the schemes as well as the studied texts.
 

Year 7

Autumn term

Adventure fiction: creative story-writing

 

Outsiders in Literature: 'Refugee Boy', by Benjamin Zephaniah.

 

Spring term

Protest and Persuasion: persuasive and polemic speech making

 

Writing the World: creative responses to nature and the environment in prose and poetry

Summer term

Reading Media: moving image and film analysis

 

Shakespeare and Stagecraft: 'The Tempest'

 
 

Year 8

Autumn term

Gothic writing: including reading of key works such as 'The Raven' and 'Frankenstein'

Poetry over time: including poetry by Blake, Tennyson and Owen.

 

Spring term

Shakespeare and Stagecraft: 'A Merchant of Venice'

 

Opinion writing: developing and expressing a viewpoint on current world issues

Summer term

The Crime Novel: exploring writers' use of language and structure for effect within the crime genre

Drama: 'Stone Cold' adaptation of Robert Swindell's novel

 
 

Year 9

Autumn term

The Modern Novel: exploring writers' use of language and structure for effect

Dystopian fiction: creative story writing inspired by '1984', 'Fahrenheit 451' and 'Lord of the Flies'.

Spring term

Shakespeare and Stagecraft: 'Macbeth'

 

Non-fiction reading: exploring writers' presentation of viewpoint and detecting bias.

Summer term

Persuasive and polemic writing: a range of writing tasks on the theme of social justice

Introduction to GCSE. Poetry of power and conflict

 
Key Stage 4
At Key Stage 4, students are entered for GCSEs in English Language and English Literature GCSE.
We follow the AQA Specification (links below). Final assessment of these GCSEs will take place at the end of Year 11, in the form of four separate examinations. In preparation for these examinations, students study a range of texts, including modern novels and plays such as 'An Inspector Calls' and 'A Christmas Carol', Shakespeare's 'Romeo and Juliet' and a range of poetry from the Power and Conflict cluster of the AQA Anthology. Students are also expected to develop their speaking and listening abilities, including a formal assessment of their presentation skills.
Over the course of the two years, students will be assessed regularly and their progress tracked. Formal mock examinations take place at the end of Year 10 and in the autumn term of Year 11. In order to extend students' learning, we offer a range of extra-curricular activities including theatre trips and visits from professional theatre companies. In the spring term of Year 11, students are provided with an extensive revision programme in preparation for their final exams, which take place at the end of Year 11.
AQA GCSE English Language specification from June 2017
AQA GCSE English Literature specification from June 2017
We also offer the 'Step Up to English' Entry Level qualification to support students where necessary.
Key Stage 5
The popularity of the English department can be seen with large numbers of Sixth Form students opting to study English Language and English Literature. Through varied and creative teaching methods, within a supportive academic environment, students are encouraged to become independent, evaluative learners, studying English to the highest levels.
Academic study is complemented by a number of extra-curricular enrichment opportunities, which aim to broaden and develop students' knowledge and understanding of the subject in different contexts. Recent opportunities have included London theatre visits and Shakespeare workshops; an English Language workshop to prepare students for their coursework assignments and visits to York University Library. We regularly welcome visiting speakers to provide enrichment for our students.
The following A Levels are offered:
English Literature (AQA Specification B)
English Language (AQA Specification B)
Media Studies (WJEC/Eduqas)
Man reading should be a man intensely alive. The book should be as a ball of light in one's hand – Ezra Pound.