About the Department
Curriculum Leader: Mr T. Rigg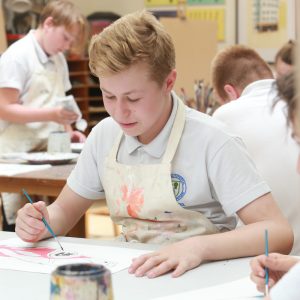 We have a lively and successful Art & Design department at Fulford. Students enjoy their art lessons and create a multitude of outcomes from exciting starting points and themes. The majority of our students, who study the subject at 'A' level, continue to further and higher education and to careers in the creative industry.
We have three good-sized art rooms, each with its own smart board and networked internet access; we also have a digital photography studio, sixth form workspace and a ceramics and 3D area.
Each teacher brings their own interests and experience to provide a rich and varied experience for our students. We offer a wide range of expertise, including painting, printmaking, 2D and 3D design, ceramics, photography and art history. We encourage all students to use the art rooms at lunch times and to work on their art and design at home. We also plan for them to visit galleries and exhibitions and we invite artists into school to work directly with our students.
Key Stage 3
Key Stage 4
Key Stage 5
Extra Curricular