About the Department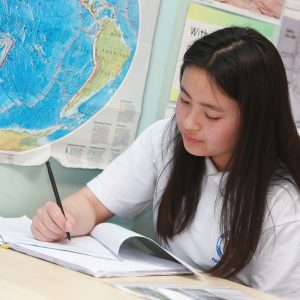 Curriculum Leader: Mr P Hickling
Geography is a popular and well regarded subject within the school, where creating great geographers through high quality learning is at the core of the department's vision. The department currently consists of seven Geography teachers. Lessons are taught in specialised rooms, which are next to each other in the well-equipped Newton block that was opened in September 2015. Each room is modern and well-resourced with its own whiteboard, interactive Clevertouch TV and computer linked to the school network. A dedicated computer room with 30 terminals is nearby.
Lesson activities are varied with a mix of problem solving exercises, research based activities, worksheets, use of the interactive Clevertouch TV and videos. Students will have the opportunity to work independently, in pairs and in larger groups. ICT is used to enhance students learning, for example for researching and presenting information. Fieldwork is important and Year 7 students use the local area, Year 8 visit the Yorkshire Coast, Year 10 students go on a field trip to the Yorkshire Dales to collect information about river processes and Year 11 students collect information about development in urban areas. In recent years there has also been an opportunity for Year 10 students to go on a fantastic educational trip to Sicily to explore the volcanic islands. Year 13 fieldwork is carried out at the Cranedale Centre over three days in the autumn term, collecting information about change in Scarborough, coastal systems and physical processes in the North York Moors. In addition, there is an awe inspiring field trip to Iceland for Year 12/13 students to explore issues about plate tectonics, geothermal activity, glaciers and tourism.
The department has friendly, enthusiastic and committed teachers who are continuing to improve the already high standards that have been achieved in the past.
Key Stage 3
The Key Stage 3 curriculum contains a range of engaging topics that develop the students' geographical understanding and their Key Learning Attributes. In Year 7 the students begin by embedding crucial Geographical skills through the topics Becoming a Geographer and Fantastic Places. They then move on to investigate topics such as Debating Development, Almighty Asia and Global Issues – which has a focus on environmental issues e.g. plastic. In Year 8 the students investigate issues relating to Energetic Earthquakes, Violent Volcanoes, Urbanisation and Crumbling Coasts. During Year 9 the students continue to build on their core Geographical skills whilst at the same time investigating Global Ecosystems, where they deep dive into 2 ecosystems in detail – Tropical Rainforests and Cold Environments. They complete Year 9 with the topic of Resource Management- where they learn about food, water and energy.
The Key Stage 3 course covers an upward spiralling of geographical skills where higher order skills are developed and progressed throughout the three years. Lessons may branch out from the set scheme of work to investigate topical and relevant events as they happen during the year.
At Key Stage 3 classes are split into two halves of the year. In Year 7 each half has one lower ability set, with the rest of the students mixed into the other three sets. In Year 8, the usual format is each half of the year has one set one, one set three and the remaining groups are set two. Engaging and interactive lesson activities are differentiated to ensure that the needs of each student are met.
Key Stage 4
Geography is a popular option choice at GCSE with a large proportion of students taking the subject. The foundation of knowledge, understanding and skills that students have built up at Key Stage 3 will be developed during Year 10 and 11. Students are taught in between five and seven groups across the year that are usually set by prior attainment. Students follow the AQA course, which examines a range of physical, human and environmental themes. Fieldwork is carried out in the Yorkshire Dales (Malham) to investigate river processes and in York to investigate changing environmental quality. In recent years, a residential fieldtrip to Sicily has also been on offer as an extra activity with a focus upon volcanic processes. Student voice activities show that they enjoy the course and many build upon their success, both in terms of their overall attainment and in comparison with their FFT estimated grades, by studying Geography at A level.
Students follow the 9-1 AQA specification. This relevant and interesting course will include:
Paper 1: Living with the physical environment (Natural hazards, Physical landscapes in the UK and the Living world).
Paper 2: Challenges in the human environment (Urban issues and challenges, The changing economic world and The challenge of resource management).
Paper 3: Geographical applications (Issue Evaluation based on a booklet of information that students study, and Fieldwork skills). All students are expected to carry out both human and physical fieldwork.
Assessment:
Papers 1 and 2 are 1 hour 30 minutes each, both are worth 35% of the final grade. Paper 3 is 1 hour long and is worth 30% of the final grade. There is no coursework or controlled assessment.
Key Stage 5
Students follow the AQA course which covers the physical Geography topics of Water & Carbon, Coastal Landscapes and Hazards. In human Geography the course covers Contemporary Urban Environments, Changing Places and Global Systems and Governance. These two exam papers are sat at the end of Year 13 and are each worth 40% of the final grade. Students will also be required to carry out their own geographical investigation (NEA), based on their fieldwork. This investigation is of the student's own choice, as long as it is linked to the specification, and will be worth 20% of the final A-level grade.
Students enjoy learning in an engaging environment where their curiosity regarding the complex interconnections in the world is allowed to develop. Students are expected to show initiative by independently researching geographical events. Students get the opportunity to go the Cranedale Centre in the Yorkshire Wolds for a three day residential fieldtrip to carry out first hand investigations into the changing character of Scarborough, contrasting drainage basins in the N.Y.Moors and evaluating the impact of management strategies to coastal erosion along the Holderness coast. Students complete a further day fieldtrip to reinforce their knowledge of coastal processes. Students also get the opportunity to go to Iceland with Discover the World where fieldwork is carried out about tectonic forces, the impacts of volcanic activity, geothermal energy, glaciers and tourism. Many students become passionate geographers and further their geographical studies at university and many students have progressed on to having careers inspired by their geographical experiences.