About the Department
Key Stage 3
Key Stage 4
Key Stage 5
Instrument Lessons
About the Department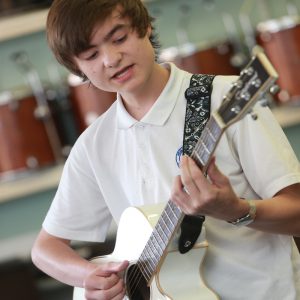 Curriculum Leader: Mrs Fletcher
The Music Department provides opportunities for all students to develop their performing, composing and listening skills. Students are encouraged to develop their confidence, independence and teamwork while exploring their voices and instruments such as the ukulele, keyboard and djembe drumming through a range of musical genres.
Students are encouraged to listen widely and experiment creatively with musical ideas, performing to a high standard in every lesson.
The Music Department is proud to support and extend the emerging skills and talents of our students through a broad extra-curricular programme and provision of peripatetic instrumental lessons.
We offer the following instrumental lessons in school:
Upper strings (violin and viola)
Classical/electric/acoustic guitar
Singing
Piano/keyboard
Drums
Woodwind
Brass
Theory/composition
Please read the letter here with further information about instrumental/singing lessons, which includes a link to the sign-up form. For any further information, please contact Mrs Fletcher directly by emailing fletcherh@fulford.york.sch.uk.
The Music Department fosters a sense of community cohesion through school concerts, extra-curricular activities and events with the wider community.
Extra-curricular music clubs, dates/times to be confirmed: Orchestra, Swing Band, Choir, School Production Band.
Key Stage 3
Key Stage 4
Key Stage 5
Instrument Lessons