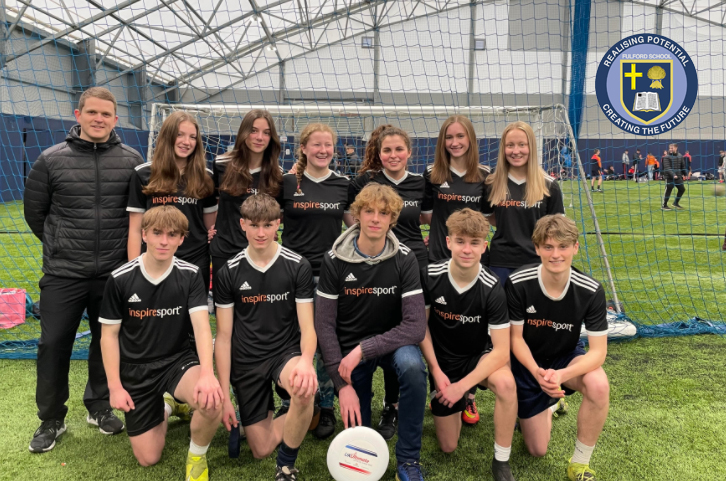 Fulford Ultimate Frisbee players to represent team GB
The Ultimate Frisbee team from Fulford School have had a successful 2022, with a fourth-place finish at the Under-17 Indoor National Finals in March and a trip to the outdoor equivalent still to come. However, this has been surpassed recently as it was announced that nine of the players from Fulford's team have been selected to represent Great Britain at international tournaments in August. Two players have been selected for GB Under 20 Women, one for GB Under 20 Open, one for GB Under 17 Women, and five for GB Under 17 Open. All of the players will be travelling to Wroclaw, Poland in August for the Joint Junior Ultimate Championships where the Under 17 teams will be competing in a European Championship and the Under 20 teams competing in a World Championship. You can find out more about the tournament here: https://wfdf.sport/2022/01/wfdf-announces-2022-world-junior-ultimate-championships/
Mr Wardell is the head of PE at Fulford School, and highlights how these students achieved their successes.
"It's great that our students' hard work and dedication has been rewarded in such an amazing way. It's no coincidence that the students that have been picked for the GB Frisbee team are the same ones that, since Year 7, have taken advantage of every sporting opportunity offer to them at school, regardless of the activity. All of them have represented Fulford in football, netball, basketball, and athletics just to name a few. The fact that they have achieved so much in a brand new activity is fantastic and they have inspired us to offer more 'non-traditional' sports as part of our curriculum. They are a fantastic group, not only for their sporting talent, but the way in which they approach sport, based on a foundation of participation, fun and enjoyment. We are extremely proud of them."
Steve Lewis, Fulford School Headteacher, said
"We are incredibly proud of the successes of the Fulford School Frisbee team. To be selected to represent the country is a magnificent achievement and speaks volumes of the time and effort these students put into their sport. The extra-curricular offer at Fulford is brilliant across the school, and this particular success from the PE department shows the clear ambition of the students to push themselves to be the very best they can be. The Frisbee players represent everything Fulford School wants to instil in its students, and we are excited to support them as they compete for team GB."
The players are now all working extremely hard as they prepare to represent the country, and have started to fundraise as well. The costs involved with training for and attending the international tournament are significant, and the team have made an online gofundme to help pay for this which can be found here https://gofund.me/fae315cc
Here are some quotes from our talented players:
Ben, who has been selected for GBU17 Open, describes how he prepared for his trials.
"We knew that the trial process was going to be physically demanding, and was really going to test our game knowledge, catching, throwing and cutting ability. One of the most important things that we took away from a recent tournament is how our throws needed to develop, and this was an aspect we focussed a lot of training time into in the run up to the trial. This helped immensely when at the trials due to us being able to make safe passes, allowing us to keep the disk alive and fit in with the high quality and fast nature of the Great Britain team."
Freya was picked for GBU20 Women, and speaks here of how her trials were run.
"We had two separate trials, the first of which was open to any applicants, and then followed by an invite-only trial. Both of these events followed a similar format by which we took part in short skill based sessions, which targeted a specific area of the sport. This took up the majority of the session and really allowed us to work on different techniques of throwing, cutting, and defending in isolation. The session finished with a 7-a-side game on both occasions, which was great because we could put everything we had learned into practice. The trials were both 4 hours long and very physically demanding – but lots of fun!"
Wil, selected for GBU20 Open, talks about the demanding nature of his season with GB.
"For individual preparation for the tournament, I go on a 10km run every week as well as 3 full-body gym sessions which target the muscles that are useful for Ultimate frisbee. Whenever I can, I go out throwing with my teammates so I can learn, and improve, my throwing in different weather conditions. When we train as GB, there is plenty of fitness but we also discuss tactics for the tournament. I am constantly learning at these sessions and becoming a better player because of it."
Emily successfully trialled for GBU17 Women, and explains what she learned from the process.
"During the process I was pushed to improve my throwing skills, particularly forehands as they are tricky to learn. I developed my strength and fitness so that I can be a more effective cutter and can make sure I can get free from my defenders. I have also become more ambitious as I want to improve my skills as much as possible to make sure I fit on the team with the other players. I am really excited to continue to improve through my season with GB."
Isaac, the Fulford captain and GBU17 vice-captain, outlines what these successes mean for the school team.
"To have so many players from our school team making it into the GB squads shows the huge benefits that come along with teamwork. It's amazing to be able to share the opportunity of playing for GB with so many of my peers. It means a great deal to the team as everyone from Fulford who trialled for GB got selected which I think can inspire others to maybe go out of their comfort zone to reap the incredible rewards and opportunities on offer."