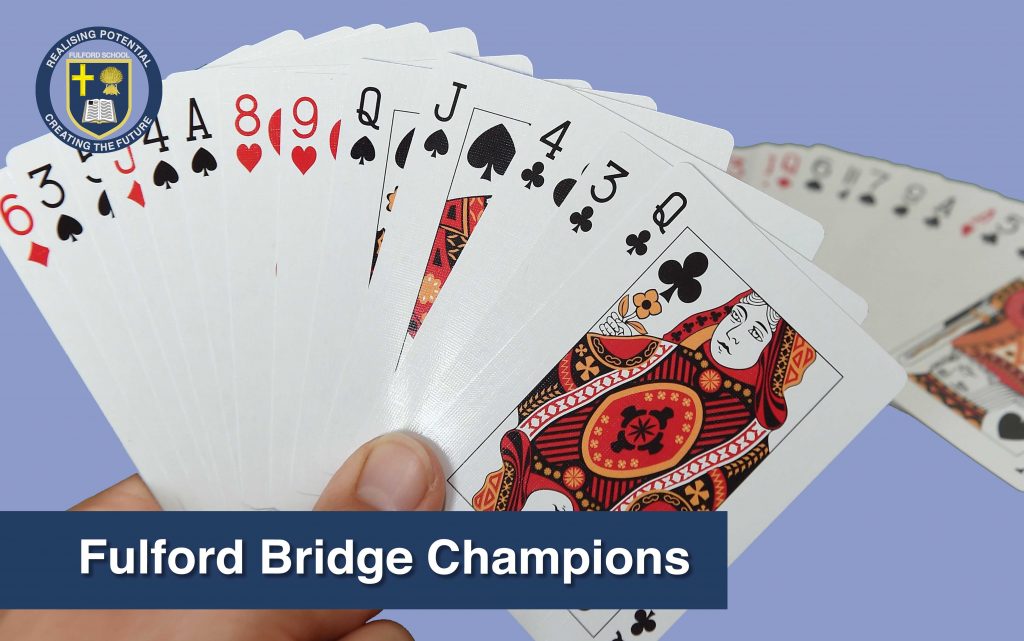 Members of the Fulford School Bridge Club have been busy over the summer. Kai Taylor won both the individual and together with his partner Aaron Rich the pairs category of the Nora Penn Award which is sponsored by York Bridge Club.  
The award is made annually to the best youth player (aged 18 or less on 1st July) and aims to support and develop younger players at the start of their bridge journey. After winning, Kai will be sponsored to attend the Junior Teach-in and the Young Bridge Challenge, two national events for junior players. Kai will also receive the EBED beginner's book 1 ('red' book) and the associated Practice Beginners Bridge book.
Congratulations to both Kai and Aaron!
Bridge is a very social card game and is a great way of meeting people and making new friends. Players start by learning minibridge which is an easy way to learn the rules and playing strategy. The school club has been running for over 12 years and we have had many successes and are the current holders of the Yorkshire School Pairs cup. We have played at Loughborough, Harrogate and the House of Lords – a trip that was kindly sponsored by Yorkshire Contract Bridge Association and the school.
The school bridge club meets at lunchtime every week and we welcome beginners and new players. We hope to run the club on Tuesdays this school year so watch this space for news! Alternatively, students who are interested in learning the game can e-mail Mrs White at rwhite1958@outlook.com.