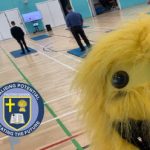 Dear Parents/Carers,
In recent years we have run a leadership academy within school allowing students to coach, umpire, and run an activity along with the Physical Education Department or with the school sports partnership.
The leadership academy is going to look significantly different this year with the restrictions on mass participation events and inability to cross 'bubbles' due to Covid. However, being physically active has never been more important than it is now.
We would like your help in creating virtual opportunities to get young people active. You can work in teams of up to 3 people, to create and design a challenge to get more young people active. To help you get started, here are some national ideas that have been successful in the past:
Toilet roll keepy-up challenge.
Can a school travel (virtually) from Land's end to John O'Groats by recording miles walked by pupils.
Lots of charities run 'can you complete (set distance) in a month' or 'number of squats in a month' etc.
Other example can be found here:
Speed Bounce – https://www.youtube.com/watch?v=ljxxh41aJFg
Football. Challenge- https://www.youtube.com/watch?v=wVB_Yr9KVEw&feature=youtu.be
You can present your idea through PowerPoint, Prezi, video tutorial or any method you would like. You may want to include someone who is good at media in your group. It would need to be in a format that could be sent to schools to explain and promote your challenge to get young people active. It would be great to have something for social media promotion too. It doesn't need to be long. Something short, sharp and punchy, that is clear for pupils to understand and take part.
Try and be imaginative. We are looking for something exciting that young people would like to get involved in. The activities should be suitable for secondary school aged pupils.
Please submit your entries to Mrs Jagger jaggers@fulford.york.sch.uk  who will in turn pass them on to your School Games Organiser. The best entry from each sports partnership will receive a prize from North Yorkshire Sport.
The winning entry from each area will be submitted and the team with the best idea and presentation/promotion in North Yorkshire will win a Fitbit Ionic each (Max 3). Schools across the county will then be asked to take part in the idea.
Good luck and please return your entries to Mrs Jagger by Monday 24th May 2021