Fulford School Sixth Form VIRTUAL Open Evening Event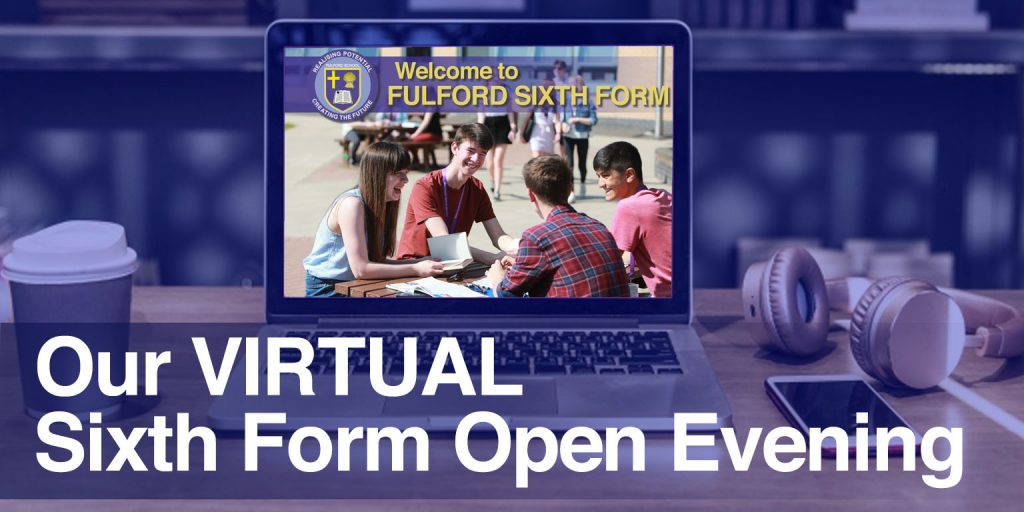 Welcome to our Open Evening page! Here you will find all our information about our Sixth Form and a link to enroll in our Virtual Opening Evening on Thursday 12th November.
WELCOME VIDEO – coming soon
Virtual Open Evening
Our Virtual Open Evening will be held on Thursday 12th November. There will be two times at which you will be able to join us for our talks: 6pm and 7.30pm. Please use this link to register for one of these time slots. A link for the Virtual Open Evening will be sent closer to the date.
Prospectus and Subject Options
Please find below our Prospectus as well as the overview of the courses we offer.
Fulford 6th Form prospectus (PDF Version)
Subject Videos
Please click on the links below to explore in more detail the courses we offer. We hope you will find the information useful as you make your decisions. Please remember your teachers will also be great sources of help
coming soon
Frequently Asked Questions
Have you got a question? Please see the link below for more information. 
Open Evening – Frequently Asked Questions November 2019
If your question is not answered, why not drop us an email:
sixthform@fulford.york.sch.uk.
Timeline
Here you will find the overview of the application process with an outline of key dates. Please note the Taster Days we offer in school.
Taster Day
At this moment in time, we are able to run a Taster Day for students at Fulford School only.
Application Form
Great news! You have decided to apply to Fulford Sixth Form. Please download the application form found below and send it in by 5th February.